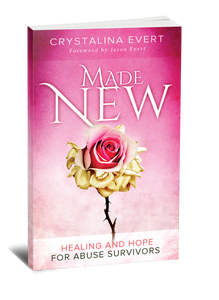 By: Crystalina Evert
Twenty-five lies stand between abuse survivors and the healing they deserve. They often believe:
It was my fault.
I'm fine. Really.
I can't tell anyone.
I'll get help later.
I'll never be healed.
I'll never trust again.
I'm unlovable.
I can't forgive...

In Made New, Crystalina Evert defuses the power of these lies and others by speaking truth into each of them, showing that no matter what a woman has been through in life, the past doesn't need to determine her future.
This version of Made New is perfect for use in public schools, and you can buy it in bulk packages of 10 for as low as $3/ copy if you click here! For a Catholic version of this book, click here.