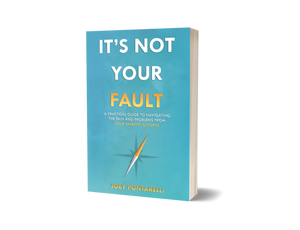 What has brought the most pain and problems into your life? For many teens and young adults, the answer is their parents' separation or divorce.
Yet nobody shows them how to handle all the pain and problems that stem from their family's breakdown. As a result, they continue to feel alone and struggle in serious ways with emotional problems, unhealthy coping, relationship struggles, and more.
It's Not Your Fault
is a practical guide to successfully navigating the 33 most pressing challenges faced by teens and young adults from broken homes.
As a child of divorce himself, author Joey Pontarelli has found solutions to the pain and problems from his parents' breakup for the past 17 years. Drawing from research, expert advice, and real-life stories, he offers tools to cope in healthy ways, overcome emotional problems, form thriving relationships, and build virtue.
After reading
It's Not Your Fault
, teens and young adults, or adults who love or lead them, will know:
How to handle the trauma of their parents' divorce or separation
How to build healthy relationships
How to overcome emotional pain and problems
Healing tactics to help them feel whole again
How to navigate their relationship with their parents
Healing their relationship with God
How to make important decisions about their future
Young people from broken homes have been neglected for far too long. They deserve better. They deserve the help they need to undo the cycle of dysfunction and divorce. This book is the long-awaited resource that will help them stop feeling alone and guide them along their journey.