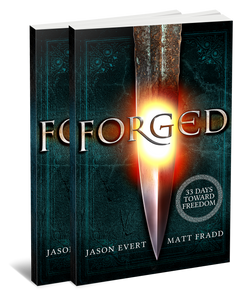 Good men don't need more reasons why it's wrong to use women online, in their imagination, or in reality.

What they need are effective strategies to win daily battles and to obtain lasting freedom and victory in the war against lust. 
Forged is a 33-day exercise designed to purify, heal, and strengthen a man, gradually replacing old vices with new virtues. Each day offers a unique weapon that belongs in every man's arsenal against the world, the flesh, and the devil. After completing the 33 days, a man will be well equipped for the battles ahead.
Readers will also receive a free 3-minute video each day from more than 30 presenters, including Fr. Mike Schmitz. Fr. Jacques Philipe, Sister Miriam James, Jeff Cavins, Christopher West, and others.
Because brotherhood is an essential component of the experience of Forged, this book is sold in pairs. Get two copies, and find a brother to walk this journey with you towards freedom!
____

Jason Evert and Matt Fradd have authored more than twenty books and have spoken to millions of people about God's plan for human sexuality. They host the podcasts Lust is Boring and Pints with Aquinas, as well as the websites chastity.com and pintswithaquinas.com.