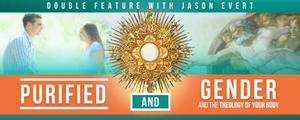 Don't miss the opportunity to hear from renowned speaker Jason Evert, live at Saints Peter & Paul Catholic Church in Ottawa, OH at this special Double Feature. An event for teens and adults, ages 13+.
Get answers to life's tough questions about love, dating, and relationships. This double feature event includes Purified and Gender and the Theology of Your Body, Eucharistic Adoration and the Sacrament of Reconciliation. The combination transforms a couple of talks into a retreat for the family, allowing them to encounter the source of purity, healing, and renewal, Jesus Christ.
The evening also includes free resources for attendees!
December 13, 2023 Event Schedule:
6:00-7:30pm Purified
7:30-7:45pm Break
7:45-8:30pm Gender and the Theology of Your Body
8:30-9:00pm Adoration and Confession
Event Location:
Sts. Peter & Paul Catholic Church
307 North Locust Street
Ottawa, OH 45875
About the Talks
Purified brings parents and teens (13+) together to discover God's plan for love and opens up an opportunity for them to continue the discussion about this important topic at home, in a healthy and easy way with resources that work. The event includes a new version of Jason's renowned talk Love or Lust, where he mixes humor with down-to-earth practicality that removes any awkwardness, making the difficult conversations about love much easier. Your family will leave with an understanding of the good news of chastity, a healthy sense of self-worth, and the ability, if needed, to start again.
Gender and the Theology of Your Body will follow after a short break. This presentation explores how Catholics can approach the topic of gender with charity and clarity. This talk is for teens and adults and provides the opportunity to discuss this difficult topic facing teens and families today.