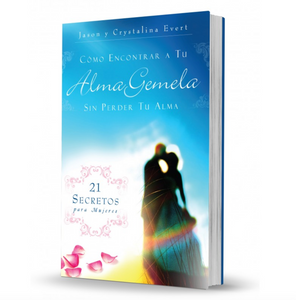 By: Jason and Crystalina Evert
¿Eres una novia… o un alma gemela?
¿Eres la mujer de ahora… o la mujer para siempre? En tu búsqueda del amor, no te pierdas en el camino.
Al navegar en el mundo de las citas, cada mujer comienza a preguntarse:
¿Cómo sé que un hombre realmente me ama?
¿Estoy siendo muy exigente?
¿Y acaso merezco el amor?
¿Vale la pena seguir con esta relación?
¿Vale la pena el riesgo para encontrar el amor?
¿Quedan hombres decentes?
A menudo, las mujeres solteras se sienten perdidas cuando tratan de encontrar respuestas a sus inquietudes más profundas sobre el amor y la intimidad. Algunas salen para pasar el rato o se involucran en relaciones casuales esperando el amor. Otras, incluso sienten miedo de tener esperanzas. En determinado momento, cada mujer necesita la confirmación de que ella–y sus estándares–no son el problema. En Cómo encontrar a tu alma gemela sin perder tu alma, descubrirás veintiuna estrategias que te ayudarán a levantar la barra, en vez de sentarte en ella a esperar que el Sr. Maravilloso aparezca. ¿no Es tiempo ya de que descubras un amor que te ayude a ser tú misma?
To receive bulk discounts on this book by purchasing the paperback version in packages of 10 at a time for as low as $3 / each, click here.
(Also available on iBooks, Kindle, Nook and Google Play)