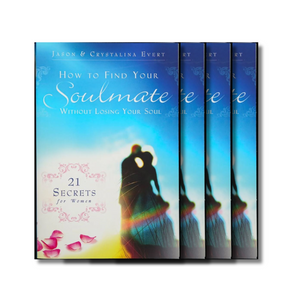 | | |
| --- | --- |
| Number of 10 Packs | Price per Book |
| 1 - 4 | $8 |
| 5 - 9  | $7 |
| 10 +  | $6 |
By: Jason and Crystalina Evert
While navigating through the dating scene, every woman begins to wonder:
How do I know when a guy really loves me?
Am I being too picky?
Do I even deserve love?
Is my relationship worth keeping?
Is love worth the risk?
Are any decent guys left?
Single women often feel left alone to find answers to their deep questions about love and intimacy. Some hang out and hook up, hoping for love. Others are afraid even to hope. At some point, every woman needs reassurance that she—and her standards—are not the problem.
In How to Find Your Soulmate without Losing Your Soul, you'll discover twenty-one strategies to help you raise the bar, instead of sitting at it, waiting around for Mr. Wonderful.
Isn't it time that you discovered a love that helps you to become yourself?
This paperback 10-pack allows you to purchase How to Find Your Soulmate Without Losing Your Soul for only $6/copy! If you wish to purchase individual copies of this book in hardcover, click here.